The lake has an area of 6,2 acres and a depth of up to 3.5m. You will find 160 carp from 18 to +55lbs selected by us. A single swim for one, two or three fishermen and a safari lodge tent for 6 non anglers, makes your carp fishing a unique moment to share with family or friends.
The location :
We offer two no kill carp fishing lakes on a private property of 39,5 acres entirely closed. The first lake, Crolée Haut, has an area of 6,2 acres and the second lake, Crolée Bas, has an area of 7,4 acres. You can practice your passion, carp fishing, with your family, but also enjoy the calm and nature by walking in the forest of 9,8 acres. Les étangs de la Crolée, is to associate carp fishing and family holidays in a preserved place.
The lakes de la Crolée are located in the Deux Sèvres, 40 minutes away from Poitiers, 30 minutes away from Niort and 1h30mn from Nantes.
Crolée Bas:
The lake has a single swim that can accommodate one, two or three fishermen. The Crolée Bas, which is fed by a stream in winter, is mainly composed of mud, clay and sand, its maximum depth is 3.5 meters. On your swim, you will have at your disposal a boat, as well as 25 kg of Particules Flakes for your baiting (all other particles are prohibited, only a few kilos of cooked tiger nuts and hempseed for fishing are authorized. The Crolée Bas welcomes 160 carps, all the mirror and common carps have been selected by our care (more than half of the carps are born at the fish farm of Les Chateliers) you will find there a large quantity of linear, semi linear carps, fully, ,ghost, two-tones, grasscarps, from 18 to 55lbs. There are also pike and roach but no undesirable.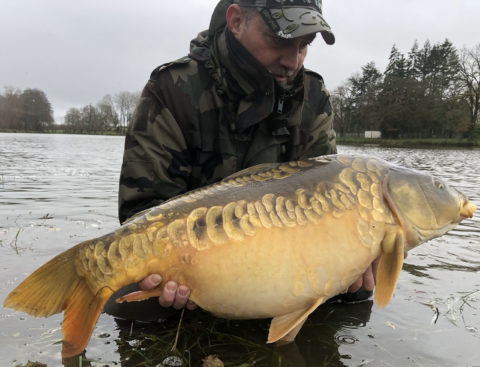 The lodge:
We have installed a safari lodge tent of 35m2 inside and a covered terrace of 20m2 overlooking the pond on the fishing station. The safari tent has 3 bedrooms for 6 people, 4 adults and 2 children, a dry kitchen with a fridge and a gas hob, and all the necessary cooking equipment, a dining area and a lounge, all powered by electricity. Fishermen can use the large covered terrace as well as the summer lounge to set up their bed for night fishing. In front of the safari tents there is also a place for the die-hard biwies.
Bathrooms :
A building located 50 m from each lake (swim) is at your disposal, it includes 2 bathrooms and a common room.
 A private bathroom is associated with each Lodge. They each have a surface area of 12m2 and include a washbasin, a shower and a toilet.
The common room has a large sink for washing dishes and a freezer.

Les Etangs de La Crolée - 79420 Beaulieu-Sous-Parthenay